In our Q&A blog series, we sit down to chat with the leaders and team members driving our programs and partnerships at the Gilbert Family Foundation. Recently, we talked with JJ Vélez, who leads our Public Spaces team. He started his role as Director of Public Spaces just a few weeks before the coronavirus pandemic shut everything down, bringing a unique set of challenges to his new job. JJ's passion for increasing access to inclusive, thriving public spaces for Detroiters stems from his own experiences growing up in New York City. For JJ, public parks and activations like those we invest in are critical for not only building community, but changing lives. Read on to learn more about JJ and his perspective on his role and how his team is making a positive impact in Detroit.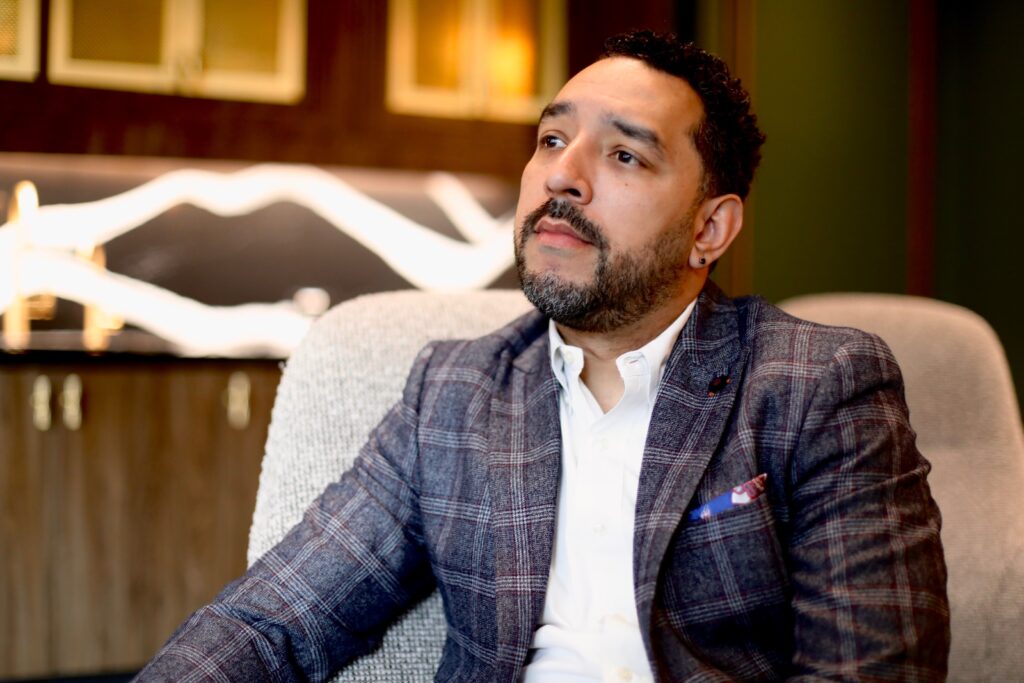 Gilbert Family Foundation: Why are thriving public spaces so important to community life?
JJ Vélez: Safe and accessible public spaces such as parks, playgrounds and greenspaces play an essential role for fostering and supporting community life. These spaces aren't just for leisure, they serve as anchors for communities for residence to grow and thrive. Research has shown that creating phenomenal public spaces can positively impacted a community not only with the creation of visual enhancements, but through health, social, economically, culturally, and environmentally. Lastly, public spaces are important for community because they create memories that can never be replace nor forgotten.
GFF: What kinds of public spaces do you think have the most positive impact on residents?
JJ: One phrase comes to mind: By Detroiters, for Detroiters, in Detroit!  Public Space projects that are community-initiated and community-driven, in this city, have always been the most engaging and had the most positive impact. In Detroit, local nonprofits, block clubs, and residents have their fingers on the pulse and best understand the wants and needs of their communities. That's why it's essential that the community doesn't just have a seat at the table – they need to set the table. From a program and planning perspective, it's critical for a public space to have a positive impact on local neighborhoods and to be sustainable.
GFF: What investments/projects are you most proud of? Why?
JJ: Come on now! I can't choose just one! I am proud of all the investments and projects that the Public Spaces team has invested in. But if I have to get really specific, our partnership with NW Goldberg Cares is a really great one. I'm especially proud of the Curtis Jones Park. Check out the video – that says everything.
GFF: What are the unique challenges of implementing a strategies and investments to support public spaces?
JJ: I like to use the term, "pain points" when talking about public space projects. I think the main pain point for these types of investments is time. It takes months to years to plan, develop and create a thriving, inclusive public space, and once you are shovel ready, you must also take Mother Nature into account. May-October is the ideal timeframe for completing a project. If you are lucky, you can start in late April and end in early November.
GFF: Speaking of challenges and pain points – how did your team continue to make progress during the pandemic?
JJ: Yes, the pandemic was especially challenging for our team. I started my role as Director just a few weeks before the world closed. The so-called honeymoon phase was short lived. As a team we did a lot of pause, pivot, and cancel. The first steps we took was looking at our recuring upcoming projects such as Cadillac Square, the Downtown Detroit Markets, and the Rocket Mortgage Sports Zone.
We pivoted on our approach to the Downtown Detroit Markets by setting up vendor huts and inviting local artists to paint and design winter art installations to make the space engaging and inviting. Unfortunately, we were forced to cancel the Rocket Mortgage Sports Zone that year due to health and safety concerns.
We also paused our investment strategy and shifted our focus on virtual and hybrid activations. For example, we created a virtual nonprofit engagement introduction tour. Over 2-3 months we connected with 30-40 organizations to share our investment strategy, and to learn more about their respective missions and projects. As a result of those efforts, we were able to invest in several projects and create new partnerships. Most importantly, we were able to connect with new organizations and foster genuine relationships.  
GFF: You're a New York transplant. What are some of the differences you've seen in terms of public spaces in Detroit – and what makes Detroit unique?
JJ: Hey, hey, yes, I was born and raised in New York City, but I plan on calling Detroit my home forever moving forward! The biggest and most obvious difference when it comes to public space here in Detroit compared to New York City is community ownership. I go back to my phrase: By Detroiters, for Detroiters, in Detroit!  The community here in Detroit is very vocal and engages on what they want to see happen in their city. No is not an acceptable answer for Detroit residents.
GFF: We know you're an avid ice hockey player. Can you talk a little about your experience and how this sport has shaped your life?
JJ: As you already know, I am originally from New York City. I started playing ice hockey at the age of nine in Spanish Harlem, in an after-school program called Ice Hockey in Harlem, in the iconic and largest city park in New York, Central Park. The Ice Hockey in Harlem program – and hockey in general – has had tremendous impact on me. It literally saved my life. This program kept me off the streets and opened doors to opportunities I would have never imagined for myself.
Today, I am still in involved with the Ice Hockey in Harlem organization serving as the Board President, and I still enjoy playing the game I love so much – skating at least once a week in a local league at the DAC and pick-up games at Clarke Park.