In this new blog series, we sit down with the leaders, team members and community partners who support the work we do in building a more equitable Detroit. In our debut feature, we interviewed Jasmin DeForrest, Director of Arts & Culture at the Gilbert Family Foundation. Prior to her role at GFF, Jasmin led Community Sponsorships at the Rocket Community Fund, spearheading innovative programs such as Detroit Out Loud and the Digital Access to the Arts Program with CultureSource. A native Detroiter, Jasmin is passionate about arts and culture as a means to build engaging and inclusive communities.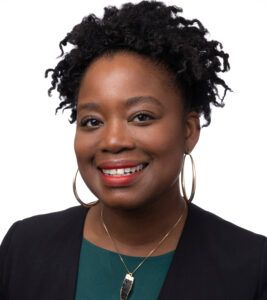 Gilbert Family Foundation: Why do you think arts and culture are so important for building community?
Jasmin DeForrest: Arts and culture are the epicenter of any thriving community, creating social bonds and breaking down barriers. Expressions of art communicate culture, diverse lived experiences, social issues, and community pride. It brings together people of all backgrounds which is critical for building community.
GFF: What makes arts and culture in Detroit so unique?
JD: It's diverse, inclusive and in many ways reflective of the city's spirit, pride, and hustle. The art here screams, "what up doe?!" –it's a vibrant, peaceful, expressive, magnetic, and sometimes, in your face, greeting.
GFF: You previously led this work on the Rocket Community Fund. How do you see this work evolving on the Gilbert Family Foundation?
JD: Our strategy is still focused on increasing access to arts and culture programming for all Detroiters. At the Gilbert Family Foundation, we will continue to develop partnerships with equity and diversity in mind, while ensuring that we are addressing racial inequities within the arts sector by expanding our investments in BIPOC artists, organizations, and youth.
GFF: What are your goals for building arts and culture in Detroit in the next year?
JD: Our teams' goals are based around our funding pillars: Access, Arts Innovation and Racial Equity. We are excited to embark on a plan that focuses on increasing access to arts and culture programs and services in Detroit neighborhoods across the city. Special shout to my teammate, Leah Counts, our team Program Manager for all of her hard work and support!
GFF: How can residents and visitors to our city help support arts and culture?
JD: Residents and visitors can support the work and building resilient communities by participating: Attend, support and engage with arts and cultural programs. Be an advocate for Detroit artists by sharing your love and experience connecting with their art.
GFF: What are your biggest hopes in terms of impact for the programs we support?
JD: My biggest hope is that we'll see more programs that are reflective and inclusive of our diverse communities. I hope to see more programs and organizations led by BIPOC individuals, and that Detroit will become well-known as a destination for art lovers.
GFF: How would you like to see Detroit evolve in this space in the coming years?
JD: I would love to see more long-term programming in neighborhoods outside of one-time experiences, and more centralized art destinations within the city.
GFF: Why are you personally so passionate about this work? What's your favorite part about your role?
JD: I'm passionate about Detroit; our people, our culture, and arts and culture represent our voices and our experiences. We have so many talented artists and organizations doing innovative work here –they fuel my passion! My favorite part of my role is strategy development and seeing it go from concept to action through our investments. Being able to support artists from Detroit as entrepreneurs and contributors to Detroit's economy is the cherry on top.