In this edition of Q&A, we talked with Brandi Brown, Associate Program Manager who supports our Economic Mobility work. Brandi's primary focus is on the entrepreneurship space, building out our portfolio, strengthening partnerships and identifying new opportunities to further elevate the entrepreneurial ecosystem in Detroit. She has been instrumental in the launch and continued progress of Venture 313, a networking and development platform for Detroit founders at every stage of their entrepreneurial journey. In addition to her work in philanthropy, Brandi is a mother of four and a licensed massage therapist. Whether she's supporting founders, her children, or her neighborhood, Brandi's passion and dedication to Detroit is evident in the way she shows up for her community every day.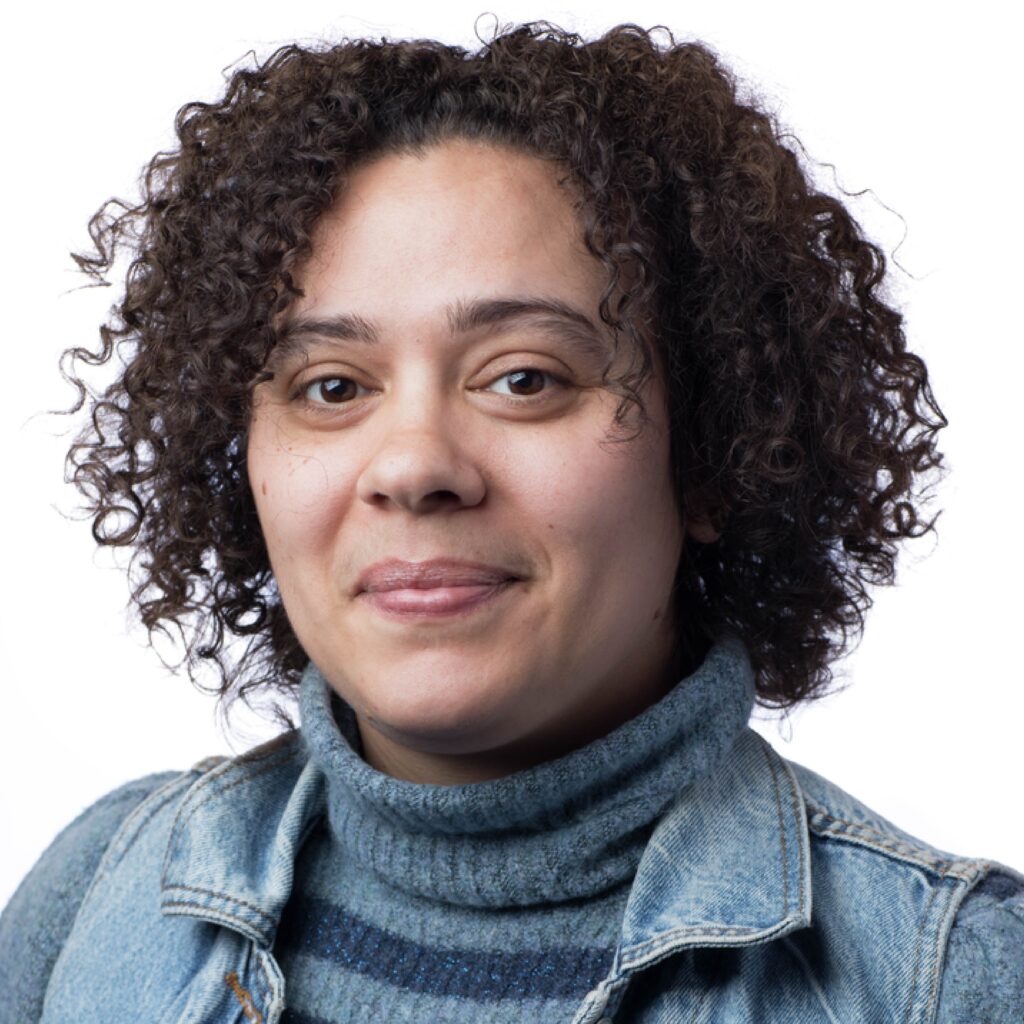 Gilbert Family Foundation: Why are you so passionate about entrepreneurship?
Brandi Brown: Witnessing people believe in themselves is my passion. Entrepreneurship is just one of many vehicles that allows people to truly create their opportunity to show up for themselves. Often, the entrepreneur's passion is so contagious that it spreads to others and the support network organically grows.
GFF: You played a major role in building Venture 313, a platform that supports entrepreneurs at every stage of their journey. What has that experience been like for you?
BB: Given that this was the pilot year of the program, we learned a lot about what founders and small business owners need from an initiative like Venture 313. As a result, we're developing deeper content and additional pathways to support the diverse number of businesses in Detroit. Supporting these early-stage businesses with capital and coaching through Venture 313 has created an opportunity for organizations like TechTown, the Detroit Development Fund and Invest Detroit to harness each other's (and the larger ecosystem!) expertise to move businesses towards growth.
GFF: What is the biggest challenge you see in the entrepreneurial ecosystem in Detroit?
BB:  Despite our historical economic challenges, Detroit has made lots of progress using the organized and collaborative efforts of its entrepreneurial community. That entrepreneurial community is now showing up in all industries, including technology. Entrepreneurs in general are often challenged with the cost and technical expertise needed to integrate technology into their business model in order to scale. We are witnessing a new wave of entrepreneurs that are suddenly becoming fractional CTOs (Chief Technology Officers) with several start-ups in order to build their portfolio while helping the other businesses grow. It's a great way to pay it forward and create solutions for these challenges!
GFF: What's your hope for Detroit founders?
BB: Simply put, my hope for Detroit founders is global recognition. Detroit has such a rich history and unique culture, and Detroit founders are in a great position to draw global attention to the city through their innovative ventures, arts, culture, and entrepreneurial success stories.
GFF: What is your favorite part about your job?
BB: My favorite part of my job is the amount of learning that takes place! Each conversation I have with our community and partners offers an additional piece to the equation. I am fortunate enough to witness the work of community members like Raphael Wright who labored to open a full-service grocery store on Detroit's east side to combat food securities.  Through those shared stories and experiences, we learn how to create solutions together.
GFF: Where do you see the Economic Mobility team expanding? Is there a specific focus area you want to explore more?
BB: Economic mobility does not begin or end at entrepreneurship. To really see economic growth in Detroit, it is all our role to help ensure our city is working as fairly as possible to measure progress across generations. In addition to traditional businesses and workforce models, I would love to see our work expand to include the buzzing cooperative community that have organically supported the housing, food and community needs of Detroiters for a long time. Cooperatives often prioritize local job creation, providing employment opportunities to community members. By giving workers a stake in the business, cooperatives can enhance employee engagement and job satisfaction. Those factors become important as regions are actively solving for labor and talent shortages.
GFF: Word on the street is you're a licensed massage therapist! What drew you to this work? Any parallels between that and your professional role?
BB: That's correct! My other profession outside of philanthropy is therapeutic massage.  Before becoming a licensed therapist almost 12 years ago, I was deeply involved in community and family development work in Detroit. As my children grew, I became a stronger advocate for a community that was self-aware, and that provided a space for healing for all families. Like many Detroiters, I witnessed first-hand how destructive gun violence can be when I lost my brother in 2007. This became an opportunity to start crafting how I show up to support my community through those moments. Often, many of the same stories and traumas that show up in our day-to-day programming at GFF, often show up in my bodywork practice. To be able to offer a safe and transformative space for people drives my work in both areas.