There's a reason that increasing access to public spaces is a core area of focus for us at the Gilbert Family Foundation. Inclusive, thriving public spaces build connections between people and their community. They strengthen our pride in our surroundings. They offer us a space to gather, recreate, and enjoy the outdoors. "At some point in life," author Toni Morrison once wrote, "the world's beauty becomes enough."
This summer, we celebrated the beauty of green, inclusive and thriving public spaces by supporting the expansion of both Clark Park and Gmeiner Park. Our Director of Public Spaces, JJ Velez, is passionate about supporting projects like these and was invited to the reopening of each park alongside community members and elected officials.
The $4M in renovations to Clark Park were completed in June. The Rocket Community Fund previously supported Clark Park in 2021 with funding to renovate the baseball diamonds.
"Our investments in public spaces like Clark Park create opportunities for residents to connect, improve their well-being, promote their overall health and strengthen their sense of community," said JJ at the ribbon cutting. "Clark Park's massive renovation is especially significant, not only because it's one of Detroit's oldest and most utilized parks, but because it's deeply cherished by the community and the residents of Southwest Detroit."
Located in Southwest Detroit, Clark Park has been a popular community anchor for well over a century. The 2023 renovations to the newly updated 30-acre park includes more modern amenities, such as a splash pad and an ADA-friendly playground, making it one of Detroit's most inclusive public parks. There are also vibrantly colored sports courts surrounding the new play area.
Just last month, we celebrated the official reopening of Gmeiner Park, another community staple that has become a hub for residents living around 7 Mile and Wyoming. The highly anticipated improvement project of the 10-acre park includes new modern amenities, a new playground, two baseball fields, a walking loop, and more.
At the ribbon cutting ceremony, JJ reiterated the Gilbert Family Foundation's dedication to supporting inclusive public spaces.
"By investing in public spaces like Gmeiner Park, we are creating space for residents to foster connections, enhance their well-being and fortify their sense of community," he said. "This project allowed the community to reimagine a crucial community asset and introduce new recreational opportunities for the residents of this neighborhood in Northwest Detroit." Take a look at photos from the respective ribbon-cuttings at the newly renovated parks: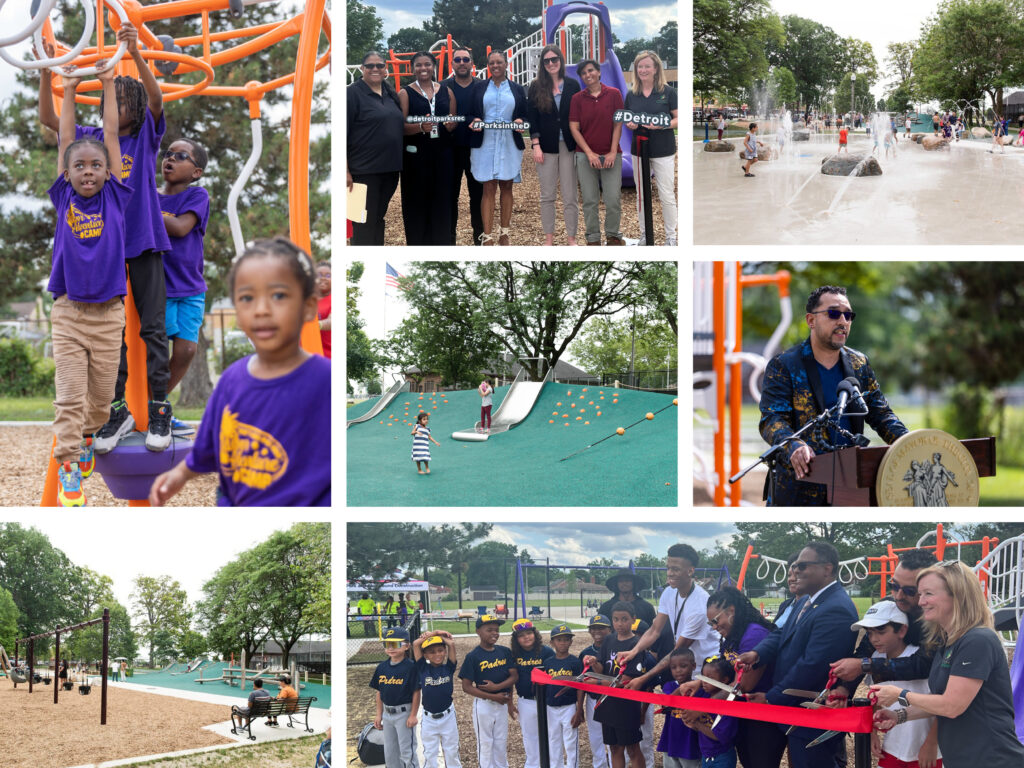 These individual parks are important spaces to build community, but we don't stop there. The Gilbert Family Foundation has an overarching vision for creating inclusive and vibrant spaces that span the city, which is why we've committed $15M to the Unified Greenway Campaign. This $350M unprecedented campaign supports the construction, operations, and maintenance of the 27.5-mile Joe Louis Greenway which will create greater access and beauty for residents. In May, alongside a unique collaboration with other funders, we celebrated the official opening of the Southwest Greenway that connects the Detroit Riverfront with Michigan Central, Corktown and Southwest Detroit. We're excited to see how the completed Greenway will transform Detroit for generations to come.