It is with great pleasure that we present the Gilbert Family Foundation's first-ever annual impact report. Over the past year, we have been unwavering in our commitment to finding a cure for neurofibromatosis (NF) and building opportunity and equity in Detroit. Though these investment areas may seem very different, they are both driven by a core cultural value of the Gilbert Family Foundation: "You'll See It When You Believe It."
Neurofibromatosis, also known as NF, is a genetic disorder that causes tumors to grow on nerve pathways anywhere in the body and affects 1 in every 3,000 people throughout the world. Though NF is typically diagnosed in childhood, it manifests very differently from person to person and there is no way to predict who will develop which features of the disease and how severe those features will be.
Because NF is a complex disease with numerous symptoms but no present solutions, it would be easy to take a cynical or skeptical view of the problem. At the Gilbert Family Foundation, however, we believe that a cure for NF is possible. Rather than look at the obstacles before us, we choose to believe in a brighter future where millions of NF patients worldwide have the resources they need to defeat this disease. This passionate belief informs our investments in NF research, which bring together multi-disciplinary teams unafraid to take bold steps in search of a cure.
Likewise, we believe in a future where Detroit residents have equitable access to opportunity and economic mobility. Our work begins with preventing displacement for families at risk of tax foreclosure and eviction. Once these families are stably housed, we layer in additional investments in arts and culture, public space and economic mobility in order to help them access economic opportunities in their career, neighborhood and home.
We recognize the many, systemic barriers that have disenfranchised Detroiters for so long and are committed to breaking them down alongside our passionate partners. Together, we believe it is possible to unlock equity, create community-informed resources and scale the impact of successful programs so that no one is left out of Detroit's progress.
We invite you to take a closer look at our impact by reading the articles in our report below. Our work would not be possible without the support of our stakeholders and partners, and we are grateful for the many people who walked alongside us in 2022.
Sincerely,
Laura Grannemann
Executive Director, Gilbert Family Foundation
Curing NF
Vision Restoration Initiative Expands with New $16 Million Investment
Gilbert Family Foundation Expands Gene Therapy Initiative With $18 Million Commitment
Gilbert Family Foundation Launches Brain Tumor Initiative
Vision Restoration Initiative Expands with New $16 Million Investment
Approximately one in every five NF1 patients develop optic pathway gliomas (OPGs): tumors on nerves that connect the eyes to the brain. Over time, the affected nerves degenerate, and many patients ultimately lose their vision. Today, there are no therapies to reverse this nerve damage and restore vision in NF1 patients with OPGs. The Gilbert Family Foundation's Vision Restoration Initiative (VRI) is dedicated to solving this unmet clinical need.
The VRI is comprised of 13 world-class NF1, ophthalmology and neuroscience experts. This veritable scientific "Dream Team" is committed to developing first-in-kind therapies to restore sight to NF1 patients and is focused on three potential therapeutic products:
Neuroprotection/Neuroenhancement Therapy, which is focused on treating less severe tumors or patients earlier in their disease progression with the goal of protecting the optic nerves and retinal ganglion cells (RGC) from degradation and even boosting their vitality and performance.
Exogeneous RGC Replacement Therapy, which is focused on transplanting healthy RGCs for patients with severe or irreversible vision loss.
Endogenous RGC Replacement Therapy, which is also focused on generating RGCs. However, this is focused not on transplantation but on stimulating cells that already exist in the patient's eye to transform into new RGCs.
Each of these therapies holds enormous potential for NF1 patients and we were excited to hear directly from the VRI researchers about their progress in 2022 at our annual VRI Meeting. Check out the video below for a recap of the convening.
Gilbert Family Foundation Expands Gene Therapy Initiative With $18 Million Commitment
In April 2022, the Gilbert Family Foundation announced a new, $18 million round of three-year grants in support of its Gene Therapy Initiative (GTI). This investment comprised $4.4 million to support 4 research projects that originally began in 2018 and an additional $13.8 million into 12 new research projects.
Unlike the Vision Restoration Initiative (VRI) and Brain Tumor Initiative (BTI), which seek to address common symptoms of the disease and address unmet clinical needs for patients with NF1, GTI seeks to fund research focused on addressing the underlying cause of NF1. Specifically, GTI supports research to develop various types of therapies, including gene replacement, gene editing, RNA editing, exon skipping, and nonsense mutation suppression.
GTI is also invested in developing methods to improve the accuracy and efficiency of delivering NF1 gene therapies to their intended parts of the body. Check out the GTI project page for a full list of projects and researchers.
Gilbert Family Foundation Co-Founder Jennifer Gilbert expressed the importance of addressing the root cause of NF1 when the program was first launched saying, "NF1 affects 1 in 3,000 people throughout the world, including our son Nick. The progress from our last research cycle and the promise of this one continues to give us hope that anyone enduring NF1 will see a cure in our lifetime."
Check out the video below for a recap of the GTI annual meeting, which brought researchers from across the country together in Detroit to share progress and updates on this important initiative.
Gilbert Family Foundation Launches Brain Tumor Initiative
In 2022, the Gilbert Family Foundation took a major step forward in its commitment to finding a cure for NF with the launch of the new Brain Tumor Initiative (BTI). This initiative addresses one of the most persistent and challenging facets of the NF1 disease: NF1-associated transformed gliomas.
Gliomas are the most common primary central nervous system (CNS) tumors in NF1 patients, usually involving optic pathways in children. As discussed elsewhere in this report, these optic pathway gliomas appear in one out of five NF1 patients and can cause patients to lose their vision. This is the focus of the Gilbert Family Foundation's Vision Restoration Initiative (VRI).
However, optic pathway gliomas can also spontaneously transform into higher grade brain tumors, which present an even greater risk to NF1 patients. BTI seeks to conduct studies to provide critical characterization of NF1 transformed gliomas and identify the most promising treatments for patients.
Like the other initiatives supporting our NF research, BTI boasts some of the best researchers in America. Check out the BTI project page for a full list of participating researchers.
We are excited to get our first round of insights from the BTI program and scale this important research in years to come.
Building Opportunity and Equity
Detroit Home Repair Fund Helps Homeowners Access Critical Repair Resources
Detroit Eviction Defense Fund Helps Renters Facing Unjust Eviction
Detroit Tax Relief Fund Gives Homeowners a Clean Slate, Preserves $100M in Wealth
Building a Foundation for Detroit Families to Thrive
Small Business Murals Project Elevates Detroit Businesses with Unique Art
Gilbert Family Foundation and Rocket Companies Partner to Support Motown Museum Expansion
Strengthening Arts and Culture Institutions and Connecting All Detroiters
Digital Access for the Arts Program Supports New Cohort, Shares Impact in 2022
Creating Vibrant Neighborhood Parks for Every Detroiter
Curtis Jones Park Honors Legacy of Northwest Detroit Basketball Legend
Downtown Detroit Markets Support Entrepreneurship & Public Spaces
Thriving Neighborhoods Fund Strengthens Longstanding Community Groups
Cultivating Diverse Talent Pipelines in Design and Technology
Launch of Venture 313 Opens New Doors for Detroit Founders
Detroit Home Repair Fund Helps Homeowners Access Critical Repair Resources
Housing stability is not only about making sure people are housed, but also about ensuring their homes are safe. Unfortunately, too many residents in Detroit are living in housing that needs repairs. According to the University of Michigan's Detroit Metro Area Communities Study, an estimated 37,630 Detroit households live in "inadequate" conditions. Even more Detroit households have repair needs that will quickly become critical without intervention.
This issue is particularly prevalent for low- and moderate-income residents, who are more than twice as likely as upper-income residents to have inadequate housing conditions. Unsurprisingly, research also shows that Detroiters unsatisfied with the condition of their home are twice as likely to say they want to move.
Put simply, if residents don't have access to safe, secure and stable homes, they will move out of the city. Meanwhile, residents who cannot afford to make repairs or don't have the ability to move will be left behind in unstable and potentially unsafe homes.
We believe that Detroit homeowners, particularly those who have lived in the city for decades, should have access to the critical repairs they need to stabilize their homes and preserve them for the next generation. That is why we were proud in 2022 to partner with ProMedica and DTE Energy to launch the $20 million Detroit Home Repair Fund. These resources will be deployed by Enterprise Community Partners and the Green and Healthy Homes Initiative from 2022 to 2024 and are expected to serve more than 1,000 Detroit homeowners, with no minimum or maximum spend on each home.
Leveraging Multiple Home Repair Resources at One Time
While many home repair interventions exist, they have different requirements and are often not optimized to work in a complementary way. One of the Detroit Home Repair Fund's goals was to leverage multiple home repair resources at once by aligning its funding with existing programs. As a result, the first track of the Detroit Home Repair Fund was made available to community partners already working with DTE Energy's Energy Efficiency Assistance (EEA) Program.
DTE's EEA program allows income-qualified homeowners to make their home more energy efficient by providing them with multiple products to help reduce their monthly bill and make their homes more affordable. This can include furnace replacements, high efficiency water heaters, energy-efficient refrigerators, energy-efficient lighting and home weatherization services.
While these services are beneficial, they often represent only a small portion of the repair needs for a resident. By aligning with the existing infrastructure of the EEA program, community partners working with the Detroit Home Repair Fund can follow-up with residents easily and identify additional repair opportunities, including roof repairs, window replacements and more.
Stable Homes Build More Stable Communities
People living in unsafe homes are at greater risk of developing health conditions like asthma or suffering injuries from trips and falls. Additionally, inadequate housing often means higher utility bills, putting a mental and financial strain on homeowners. The Detroit Home Repair Fund aims to provide Detroit homeowners with the stability they deserve so they can focus on improving other aspects of their life, like building wealth and improve their economic wellbeing.
While the repair need in Detroit is still great, we are excited to analyze the first year's worth of Detroit Home Repair Fund investments to see how we can improve on the program and help even more Detroit homeowners.
Detroit Eviction Defense Fund Helps Renters Facing Unjust Eviction
The Gilbert Family Foundation's commitment to housing stability is not only focused on Detroit homeowners, but also renters, who are uniquely vulnerable to displacement. According to research conducted by the investment bank and advisory firm Stout, originally commissioned by the Rocket Community Fund, only four percent of tenants in Detroit have access to legal representation in eviction cases, compared to 83 percent of landlords. Unsurprisingly, this vast disparity leads to greater outcomes for landlords even when the tenant is acting within their legal rights.
This inequity not only leads to families being uprooted, but also drives residents to leave Detroit entirely. Stout found that 12 percent of Detroit evictions may result in residents leaving the city (approximately 700 households and 2,100 residents each year), which has a negative impact on the economic stability of our neighborhoods.
But what happens when tenants have access to legal representation? Stout's research found that the economic benefit of providing tenants with access to legal counsel far exceeds the cost – for every $1 spent, our community will see $3.52 in economic benefits.
The Detroit Eviction Defense Fund (DEDF) was created to help the thousands of renters every year who face unjust eviction. Comprising a three-year, $12 million investment into partners United Community Housing Coalition, Lakeshore Legal Aid, and Michigan Legal Services, the DEDF is focused on families with a child in the home who make 50% of the Area Median Income (AMI).
These low income tenants – whose household income is up to $35,800 for a family of two, $40,300 for a family of three, and $44,750 for a family of four – will have access to legal representation throughout their eviction proceedings. This representation will ensure that residents understand their legal rights and can avoid illegal evictions, for example if a landlord seeks to evict tenants so they can raise rents on future renters, despite the presence of an existing rental or land contract agreement. Additionally, tenants can legally withhold rent due to structural and safety concerns with the home that are the landlord's responsibility to address.
In 2022, the DEDF enabled 6,369 households to receive legal support. We are excited to expand the number of residents we serve in collaboration with our nonprofit partners and the City of Detroit, which is launching its own eviction defense program in 2023 after Detroit City Council passed a "Right to Counsel" ordinance in May 2022. To support our ongoing work, the DEDF also included a $1 million investment for research and analysis of the program.
Detroit Tax Relief Fund Gives Homeowners a Clean Slate, Preserves $100M in Wealth
Property tax foreclosure has been the biggest contributor to housing instability in the city of Detroit in recent years. It erodes homeownership, accelerates blight, and significantly reduces equity and wealth for residents by diminishing property values. Dan Gilbert has been personally involved in efforts to address this issue since 2013, when he co-led the Detroit Blight Removal Task Force.
While there are programs to help homeowners at risk of tax foreclosure, they are underutilized. In fact, the Rocket Community Fund's very first Neighbor to Neighbor report, published in 2019 found that 90% of tax delinquent Detroit homeowners would have qualified for full tax exemptions if they had applied for the program. As a result, far too many Detroit homeowners are struggling with back tax debt and the persistent risk of foreclosure.
The Gilbert Family Foundation believes that no one should be foreclosed on for taxes that should not have been assessed in the first place. That's why, the very first programmatic announcement of our historic $500 million, 10-year joint commitment with the Rocket Community Fund was the Detroit Tax Relief Fund.
The Detroit Tax Relief Fund sought to completely eliminate the back property tax debt that burdened low-income homeowners for far too long. When we launched the program in 2021, we estimated that 20,000 low-income Detroit families could qualify for this resource, representing over $400M in wealth preserved. By paying off these taxes, we could free up residents to focus on spending their money on the things that matter: groceries, health care, making home improvements, and more.
To date, the Detroit Tax Relief Fund has paid off the back property tax debt for more than 6,000 Detroit families. These families owed, collectively, more than $25.5 million in tax debt. Thanks to enrollment in the Homeowner's Property Exemption (HOPE), as well as Pay As You Stay (PAYS) which helped wipe fees, penalties and other ancillary costs, that total burden was reduced to $4,739,353. That amount was paid in full by the Gilbert Family Foundation.
This singular investment into those Detroit families' future helped unlock more than $100 million in wealth and home equity in Detroit. There is still a lot of work to be done and the Gilbert Family Foundation and partners like Wayne Metro are excited to continue promoting this important resource and reach the nearly 14,000 remaining eligible families to help eliminate their back tax burden.
Building a Foundation for Detroit Families to Thrive
In March 2021, the Rocket Community Fund and Gilbert Family Foundation announced a 10-year, $500 million philanthropic investment to build economic opportunity in Detroit neighborhoods. The focus of this transformational investment was to break down systemic barriers and jumpstart opportunities for Detroit residents to build wealth.
From the beginning of this commitment, our priority has been to support Detroiters that are uniquely vulnerable to displacement. That is why our first investment was to create the Detroit Tax Relief Fund, which sought to completely eliminate the property tax debt owed by an anticipated 20,000 low-income homeowners in the city of Detroit. Likewise, we created the Detroit Eviction Defense Fund in 2022 to ensure renters had the legal resources necessary to avoid unjust displacement.
We made housing stability the foundation of our Detroit investment strategy because it is the most critical barrier to success in all aspects of economic opportunity. Without a secure place to call home, everything becomes more difficult. Residents struggle to maintain stable employment. Students are uprooted from their schools, causing disruptions to their education. Unoccupied homes create blight in neighborhoods or become fodder for speculators who don't have an interest in the long-term health of the community.
While we recognized that housing was the most urgent area to address, we also saw it as one component of a more comprehensive strategy. As our Founder Dan Gilbert said when we first launched the Detroit Tax Relief Fund, "The greatest resource of any community is its people, and we are honored to be able to invest in removing this tax burden, which will build a stronger foundation for Detroit families to thrive."
There is a big difference between surviving and thriving, which is why we pair our housing interventions with very deliberate investments focused on arts and culture, public space, and economic mobility. In 2022, we were excited to launch a number of programs in these areas that are helping move residents from housing stability to financial stability, while also enhancing broader quality of life in our communities.
It is our fervent belief that by staying close to residents and listening deeply to their needs, we can collaborate with our partners to provide the right kinds of wraparound support needed to build long-term, generational wealth. We are excited to examine our investments so far and build on our progress in 2023 and beyond.
Small Business Murals Project Elevates Detroit Businesses with Unique Art
Detroit is a city with a rich arts and cultural history, and a core focus of our work is ensuring that this legacy thrives by supporting today's emerging artists. That's why we're proud to produce the Small Business Murals Project, which connects art, public spaces and entrepreneurship in a unique way.
Since 2017 the Small Business Murals Project has paired muralists with Detroit small business owners to collaborate on engaging, large-scale murals that increase foot traffic to local businesses while elevating the spaces around our city. We're proud to work with nonprofits including TechTown and ProsperUs to identify small businesses that would benefit from murals. Then, we collaborate with 1XRUN to identify promising Detroit artists, and we connect them with our selected businesses to work together on the development of the mural.
To date, 32 murals have been created through the Small Business Murals Project, featuring the work of artists like Freddy Diaz, Phil "Fresh" Simpson, and Sheefy McFly. The businesses selected to participate range from coffee shops to gyms, restaurants to auto repair shops – and even nonprofits. That's part of what makes the Small Business Murals Project so unique – it supports both local creative professionals as well as business owners and the overall entrepreneurial ecosystem in Detroit.
Check out the video below to learn more about the new batch of murals created in 2022, which featured many new artists, and hear from some of the business owners on the power of this unique program.
Gilbert Family Foundation and Rocket Companies Partner to Support Motown Museum Expansion
At the Gilbert Family Foundation, we have a deep appreciation for the impact that arts and culture have had on our city for generations. This long history of artistic creativity and excellence has given our community more economic opportunities and helped people build strong social bonds.
In August of 2022, we announced a $5 million gift to the historic Motown Museum, in partnership with Rocket Mortgage. As part of this gift, we established "Rocket Plaza". With regularly scheduled performances by local artists and special opportunities for emerging business owners, the immersive Rocket Plaza will be a warm welcome for museum visitors. Its goal is to inspire joy and creative collaboration.
"Rocket Mortgage and the Gilbert Family Foundation are dedicated to making investments that are critical in developing Detroit's ecosystem in impactful ways," said Matthew Rizik, Chief Executive Officer, Rock. "We are honored to partner with an organization that has such an inspirational legacy not only in the Detroit community, but all over the world. We are ecstatic to be a part of the Motown Museum's next chapter."
Inspired by a time when young Motown acts would hang out in front of Motown's headquarters, Rocket Plaza will serve as the ultimate Motown-inspired community gathering space. Museum visitors will arrive at a beautifully lit granite paver expanse, surrounded by colorful flowers, lush plantings, park benches and a pop-up performance stage surrounded by a sound system playing their favorite Motown hits.
Strengthening Arts and Culture Institutions and Connecting All Detroiters
The Gilbert Family Foundation believes that investments in arts and culture are vital to building more resilient and connected communities. When people are able to share a cultural experience, it helps them form bonds and gain a deeper understanding of one another. Fortunately, there is no shortage of great cultural experiences to enjoy in Detroit, one of the world's leading centers of art, music, and more.
However, access to these experiences has not historically been equal. In its 2020 report, Community Ties, the Knight Foundation found that 79% of white metro Detroit residents reported very easy access to arts and cultural activities compared to 65% of nonwhite residents. This is a higher disparity than the national average. Additionally, the study was completed before the COVID-19 pandemic, which significantly deepened existing inequities among lower-income residents and people of color.
The Gilbert Family Foundation is committed to ensuring all Detroit residents have access to quality arts and culture experiences. An important component of this work is strengthening Detroit's existing arts and culture institutions. In 2022, we made investments in a wide variety of anchor institutions, including the Detroit Institute of Arts, Detroit Symphony Orchestra, Detroit Opera, Detroit Historical Museum and The Wright. We also supported the expansion of Detroit's world-famous Motown Museum, which you can read about in more detail elsewhere in this report.
One of the biggest arts events of 2022 was the launch of the Detroit Institute of Art's Van Gogh in America exhibition. This incredible exhibition celebrated the 100th anniversary of the Detroit Institute of Art's purchase of Van Gogh's Self-Portrait (1887), which gave it the unique status of being the first public museum in the United States to purchase a painting by the acclaimed artist. In total, Van Gogh in America brought 74 authentic Van Gogh works from around the world together into one exhibition.
We wanted to ensure that as many Detroiters as possible could see this once-in-a-lifetime exhibition, so our funding for the program was focused on providing subsidized access to students and low-income Detroiters.
Importantly, our investments with these partners are not purely focused on institutional support. We are also committed to working with anchor institutions to diversify their programming with a special focus on elevating Black, Indigenous and people of color (BIPOC) talent. One example of this intentionality is our support for the Detroit Historical Museum's The Hustle exhibition.
The Hustle sought to highlight the importance of Detroit's Black business community by identifying "inspiring stories of Detroiters who may have never expected to see themselves celebrated in a historical museum." The two-year special exhibition features stories of Detroit's outstanding Black entrepreneurs, crowdsourced from the community, and also includes "educational programs and public events, including a resource summit designed to support entrepreneurs at every stage of their journeys."
These are just two of the types of programs we sponsored through our institutional partnerships and there will be many more to come in 2023 and beyond as the Arts & Culture team will continue to center its investments around its key pillars of access, arts innovation, and racial equity.
Digital Access for the Arts Program Supports New Cohort, Shares Impact in 2022
Arts and culture organizations are essential to helping people build bonds with each other and the local community. These bonds are critical to building more resilient communities. Put simply, when we feel connected to one another, we're more likely to look out for one another. Unfortunately, the COVID-19 pandemic prevented many arts organizations from staying in contact with their communities.
To address this challenge, the Rocket Community Fund joined forces with CultureSource in 2020 to develop the Digital Access for the Arts Program (DAAP) so they could learn how to convert in-person programs to digital experiences and build other essential digital skills during the pandemic.
While the COVID-19 pandemic made the need for digital access more acute, the value of having a digital strategy in collaboration with a physical strategy has continued to drive interest in DAAP. Now, this multifaceted program is managed by the Gilbert Family Foundation and includes educational resources, research and small grants designed to help arts organizations create, grow and thrive in a blended future that includes both digital and online programming.
In 2022, the 16 DAAP recipients each receive a $5,000 grant as well as capacity-building, infrastructure support and monthly workshops led by tech experts in residence to support digital strategies in what has become an increasingly hybrid environment.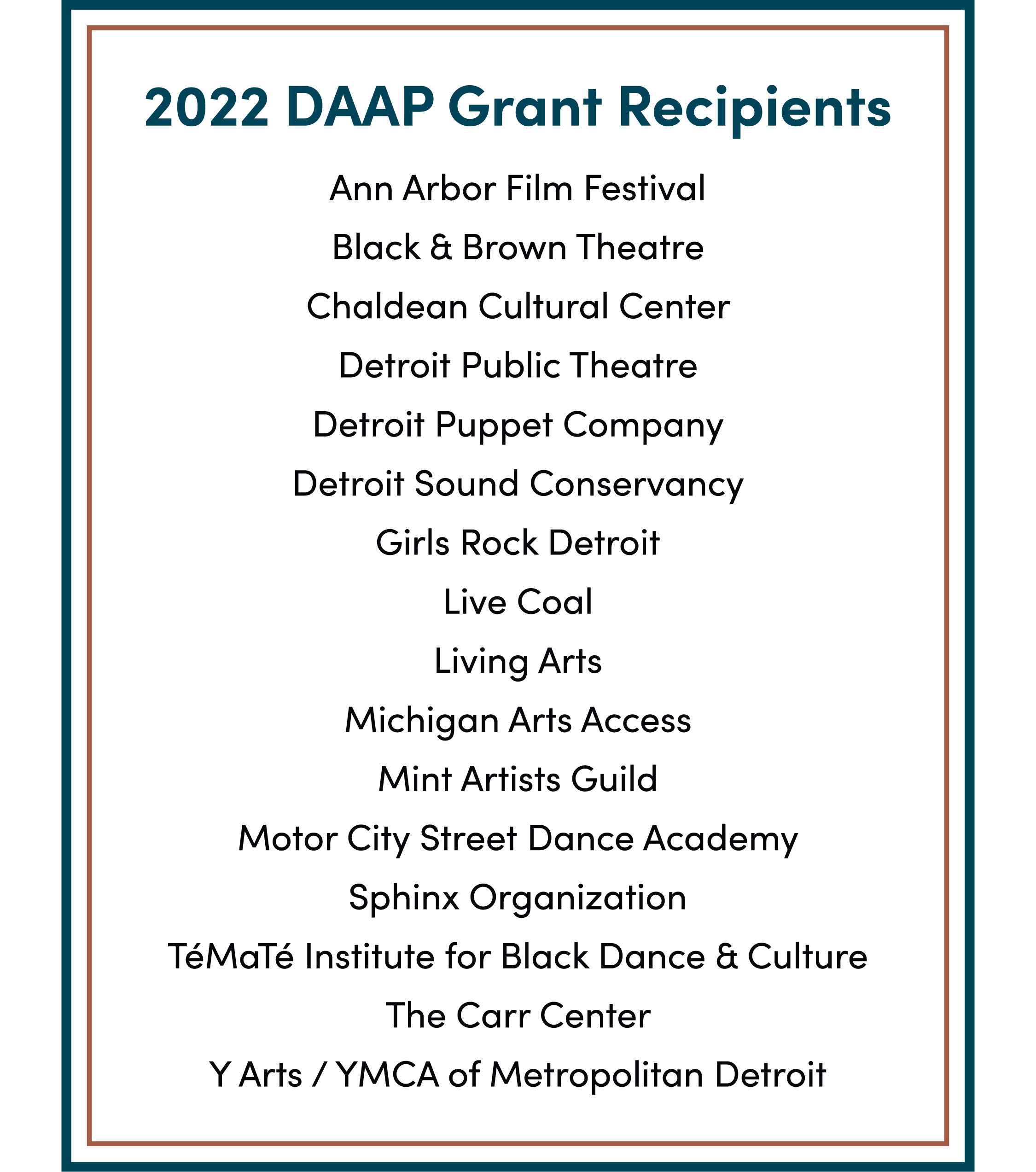 The impact of this program on the participating organizations has been extremely beneficial, as prior to participating many did not have the skills or resources needed to create digital strategies for a virtual audience. In late 2022, CultureSource commissioned a report with 8 Bridges highlighting the impact of the DAAP on their most recent cohort. The report gives insight into the biggest operational and engagement challenges facing arts and cultural institutions, and highlights how DAAP continues to evolve to meet those needs.
We are excited to continue building on the knowledge gained through previous DAAP cohorts to strengthen the program in years to come.
Creating Vibrant Neighborhood Parks for Every Detroiter
At the Gilbert Family Foundation, we believe that investing in vibrant and inclusive public space is essential. When public space is accessible, residents are able to connect in unique ways that improve their health, enhance their wellness and strengthen their sense of community. Ultimately, our goal is to provide universal access to safe public spaces within a half mile of every Detroit residence. We made great strides toward this goal in 2022 with several neighborhood park investments.

Expanding Fort Street Bridge Park
A great example of our commitment to public space in 2022 was our investment with Friends of the Rouge. Friends of the Rouge's mission is to restore, protect and enhance the Rouge River watershed. To support this mission and provide greater river access to Detroit residents, the Gilbert Family Foundation made a $275,000 investment in Phase II of the expansion and renovation of the Fort Street Bridge Park.

Residents in the surrounding neighborhoods of the Fort Street Bridge Park have suffered from decades of disinvestment and industrial pollution, and those who live there have been historically cut off from the river by industry and systemic barriers. The Fort Street Bridge Park was opened in 2020 with the goal of reconnecting the community to the river and providing a thriving park space for residents to enjoy and enhance their well-being. Phase one has been a success, but more work needed to be done to ensure that the park is inclusive, enjoyable, and equally accessible for all neighborhood residents.

Phase II of this project involves doubling the park greenspace, as well as new amenities including an enhanced fishing pier and observation space, and the installation of a universally accessible kayak launch. The location of the newly expanded park will also provide strategic pathways between both planned and existing blueways and greenways in the area. The Fort Street Bridge Park is part of a larger aim to establish a 29-mile water trail and network of connected greenways on the Lower Rouge River.

Public, Private and Nonprofit Come Together for Tireman-Minock Park
Another major investment in 2022 was our commitment to the development of Tireman-Minock park, where our investment will allow Detroit residents to enjoy clean walkways, a new playground, fitness equipment, a walking loop, picnic area, and plenty of vibrant green space.

The Tireman-Minock Park project is a part of the City of Detroit's Strategic Neighborhood Fund initiative and also incorporates funding from the American Rescue Plan Act. The Gilbert Family Foundation stepped up with an additional $275,000 investment to ensure the project met all of its goals for the community and was completed on time.

The development of Tireman-Minock is a passion project for Detroit's District 7 Councilman Fred Durhal III, who wanted to make good on a promise to his constituents by elevating the neighborhood.

"When I was elected councilman, my goal for this district was to ensure that we had everything that everyone else had," said Durhal. "So that means clean and safe neighborhoods. That means parks where our seniors and our youth can recreate and come together. I am here in that spirit working to ensure that we can accomplish those goals, block by block." And it's in that very spirit that the park was conceived, with construction already underway. "When we work together, amazing projects like this happen," added JJ Velez, Director of Public Spaces at the Gilbert Family Foundation.

Watch the video to learn more about the new Tireman-Minock Park and the people who are driving the project forward.

Curtis Jones Park Honors Legacy of Northwest Detroit Basketball Legend
We believe that public spaces should serve the public good, which is why we're dedicated to supporting programs and partnerships that increase access to inclusive, thriving public spaces. Our ultimate goal is to ensure that every Detroit resident has access to a safe public space within a half mile of their home.
That's why we were so proud to support the creation of the unique Curtis Jones Park in the Northwest Goldberg neighborhood, a collaboration with our partners at Northwest Goldberg Cares.
The park is named after Detroit basketball legend Curtis Jones, who passed away in 1999. Jones was considered something of a basketball prodigy, but he did not receive the social and educational support needed to thrive off the court. The dedication of the park in his name honors his life and legacy, while also highlighting the importance of building more equitable systems to support residents at every stage of life.
"The CJ" (as residents call it) boasts a combination basketball court, playground, rain garden and event space, featuring hand-painted murals by artist Bisco Smith. Check out the videos below to learn more about the creation of the park and the life of Curtis Jones, as well as the inspiration behind the art that has made this public space truly unique.
Downtown Detroit Markets Support Entrepreneurship & Public Spaces
The Gilbert Family Foundation believes that public spaces should serve the public good. That means thinking critically and intentionally about how to design, program and promote events and experiences so they are accessible and inclusive to all.
This foundational philosophy has led to wide-ranging partnerships and investments that bring diverse groups together to enjoy shared space. One example is our continued commitment to creating world-class experiences in downtown Detroit, like the annual Downtown Detroit Markets and Cadillac Lodge.
Each year, the Gilbert Family Foundation partners with Bedrock and the Downtown Detroit Partnership to bring this unique shopping and holiday experience to downtown Detroit. Residents and visitors flood Cadillac Square to enjoy refreshments and games at the cozy Cadillac Lodge and shop for holiday gifts at one of the eighteen small businesses featured in wooden pop-up shops. In 2022, the markets and Cadillac Lodge were boosted by the nearby Monroe Street Midway activation, which was led by Bedrock and included a wide range of fun activities for families including bumper cars, an arctic slide, puck-putt, an arcade, and food and beverage vendors.
As in years past, the majority of the businesses featured in the markets were BIPOC or woman-owned, which supports our mission to build equity and opportunity for historically underrepresented groups. This year's market vendors received additional support from TechTown, Detroit's entrepreneurship hub, through a series of workshops and one-on-one business mentorship programs.
The Downtown Detroit Markets aren't just fun, they provide a huge opportunity for local Detroit entrepreneurs to test their products in front of a larger audience and make significant sales during the busy holiday shopping period. In 2022, the Downtown Detroit Market vendors (not including the Cadillac Lodge) generated more than $1 million in revenue for the first time ever! Even more impressively, three vendors had more than $115,000 in individual sales in only 8 weeks.
While the markets and the lodge are only up during the holidays, these incredible numbers show how impactful they can be in a very short amount of time. We are excited to continue finding ways to improve the Downtown Detroit Markets and Cadillac Lodge experience for Detroit entrepreneurs, community partners and the public at large. Check out the video below to learn more about the 2022 activation.
Thriving Neighborhoods Fund Strengthens Longstanding Community Groups
One of the guiding principles of the Gilbert Family Foundation is the importance of listening. We recognize that we can't make a positive impact in our community if we don't understand it and that requires working very deeply and intentionally with our nonprofit partners, particularly those groups that have been invested in our neighborhoods for a long time already.
In October 2022, we launched the Thriving Neighborhood Fund, a $500,000 investment to support 20 neighborhood-centered nonprofit organizations in Detroit. The Thriving Neighborhoods Fund was created to amplify the work of nonprofits that play a critical role in leading neighborhood stabilization through public space activation and strengthening our social infrastructure. In addition to financial assistance, grantees will receive free educational resources and the opportunity to join a cohort to learn from their peers operating in Detroit neighborhoods.
To ensure that the Thriving Neighborhoods Fund had an immediate impact, the Gilbert Family Foundation collaborated with Strategic Community Partners, who will assist with program facilitation, recruitment, and management. Strategic Community Partners is a national firm that works with organizations by advising, designing, and managing projects and initiatives that advance equity with and for communities.
The selected organizations have demonstrated their commitment to improving the quality of life for Detroit residents by investing in public space activation and other programming that creates more vibrant and inclusive neighborhoods.
"I am so excited that my organization has been selected to be part of this growth opportunity, that I can barely sit still," said Carla McClure, Garden Director, Berg-Lahser Community Garden. "The Berg-Lahser Community Garden and Association proudly accepts this gracious opportunity to do its part in the betterment of our immediate community and the greater landscape that is the city of Detroit."
The 2022 Thriving Neighborhood Cohort Included:
360 Detroit, Inc
Bailey Park Project DBA Bailey Park Neighborhood Development Corporation (BPNDC)
Berg-Lahser Community Association/BLYC Youth Community Garden
Chandler Park Conservancy
Clark Park Coalition
Detroit Catholic Pastoral Alliance
Detroit Heals Detroit
Detroit Hives
Hope Village Revitalization
La Casita Cimarrón y Yuketi de Detroit
Lawn Park Academy
Live6 Alliance
Marygrove Community Association
One New Humanity
Rescue MI Nature Now, Inc.
Renaissance of Hope
Russell Woods Sullivan Area Association
Sinai-Grace Guild Community Development Corporation
Urban Neighborhood Initiatives (UNI)
Urban Development Corporation

Check out the video below to learn more about the program and hear from some of the participating nonprofit partners.
Cultivating Diverse Talent Pipelines in Design and Technology
Detroit is more than the Motor City, it's a hub of innovation and industry. It is consistently recognized as the tech hub of the Midwest and the number one emerging startup ecosystem in the world. As the places we work and the jobs we do continue to change, so must the way we prepare future generations for the jobs of tomorrow.
Design, technology, and similar fields are experiencing a rapid expansion in the number of jobs available. Unfortunately, these fields are also vastly underrepresented by people of color. This is why the Gilbert Family Foundation is investing in educational programming for Detroit residents to help bridge the gap in these high-growth industries.
One such investment was made into the Apple Developer Academy in Detroit, which educates, prepares and inspires a diverse generation of coders, tech leaders, and entrepreneurs. Specifically, the Academy aims to empower young Black entrepreneurs, creators and creatives by helping them to cultivate the skills necessary for the jobs of the future. In 2022, the first cohort graduated nearly 100 students, and will graduate more than 200 in 2023. Additionally, more than 500 students are expected to participate in a 30-day Foundations program every year.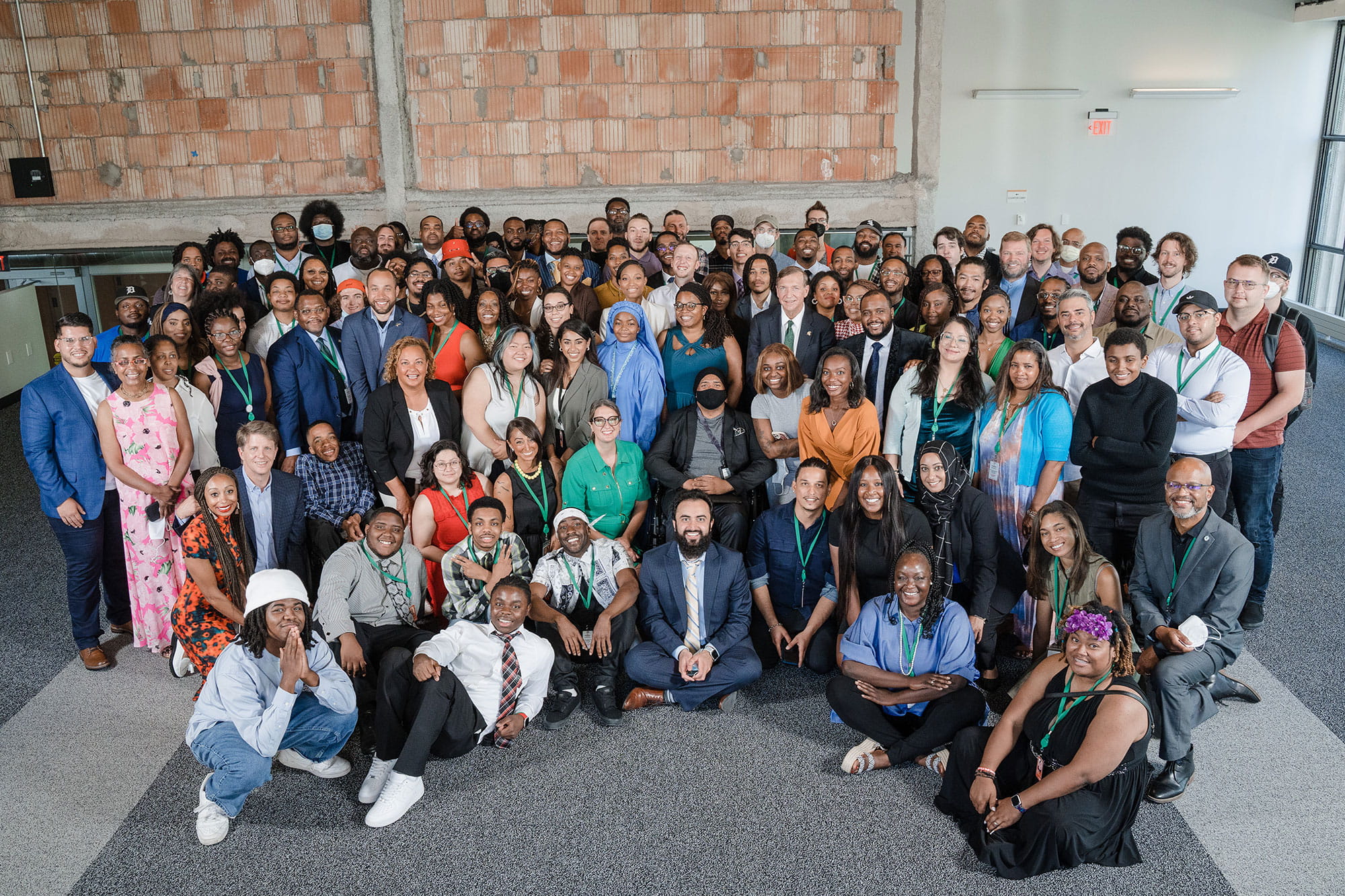 In addition to core programming, our support for Apple Developer Academy also included unique opportunities for students to participate in other Gilbert Family Foundation investments. For example, a group of students collaborated in the development of the Gilbert Family Foundation's new Venture 313 platform. Additionally, we sponsored Academy students to attend the 2022 National Microloan Conference, the largest national conference focused on microlending for entrepreneurs.
The Gilbert Family Foundation also maintained its commitment to the Pensole Lewis College of Business (PLC) and Design, the first Historically Black College and University (HBCU) to be reopened after closing in the entire country. PLC seeks to support aspiring Black creatives, designers, engineers, and business leaders through educational programming and partnerships with major brands and prominent creators.
Since PLC was launched in 2021, it has grown quickly, attracting interested students and brand partners. In 2022, PLC hosted Brand Masterclasses with Carhartt, Wolverine Worldwide, P&G, J. Crew, New Balance, Capri Holdings Limited, VF Cororation and GM. We are proud to support both PLC and the Apple Developer Academy as they continue to grow and meet the diverse needs of emerging Detroit talent.
Launch of Venture 313 Opens New Doors for Detroit Founders
Detroit is filled with passionate, talented entrepreneurs who have big, game-changing ideas, but there are often barriers that hold them back from achieving success. Inspired by the entrepreneurial spirit and legacy of our founder Dan Gilbert, the Gilbert Family Foundation seeks to remove these barriers and unlock the entrepreneurial potential within every Detroit resident.
One example of this mission is Venture 313, a platform launched in fall 2022 focusing on providing the capital, coaching and community Detroit entrepreneurs need to not just start businesses, but to launch successful ventures.
Evolving to Meet Entrepreneurial Needs: From Detroit Demo Day to Venture 313
Venture 313 is the successor to Rocket Mortgage Detroit Demo Day, an annual entrepreneurship competition created by the Rocket Community Fund that invested more than $1 million every year into businesses in a variety of categories. Over five years, Detroit Demo Day proved enormously successful at supporting participating businesses and driving growth in the overall economy. According to a report by PricewaterhouseCoopers (PwC), which included 28 out of 50 of past winners, Detroit Demo Day winners surveyed directly and indirectly supported 531 jobs and contributed $15.8 million of labor income and $23.8 million of value added in Michigan in 2021, the most recent award year.
Despite this success, Director of Economic Mobility James Feagin knew that entrepreneurs needed more to truly thrive. He also wanted to get more founders in the game.
"The venture capital world can feel like a secret club, with its own set of rules and language. A business-as-usual approach will not equip Detroit founders with the tools or funding they need to get in the game," said Feagin.
Enter Venture 313, a $10 million commitment to three founding partners: TechTown, Invest Detroit, and Detroit Development Fund, who will use the investments to deploy funding ranging from $500 to $250,000 into Detroit businesses. The partners will also wraparound services, including guidance for entrepreneurs at each step of their journey, innovative programming and more.
A Playbook to Help Businesses Grow
To obtain funding, as well as participate in the unique programming and networking opportunities, interested entrepreneurs begin their journey by vising the Venture 313 website at Venture313.com, which was developed in tandem with TheStartup.com. Users are able to create an account, build their user profile and complete their journey planner. This journey planner will provide entrepreneurs with a playbook uniquely tailored to their needs.
Playbooks, built by the Gilbert Family Foundation and founding partners, empower entrepreneurs to engage in all facets of growing their business. This includes instructions on conducting market research, completing a competitive analysis, working toward the creation of a minimum viable product (MVP), obtaining loans and other funding, preparing for demo calls and more.
Toward the end of 2022, Venture 313 had already seen hundreds of unique engagements with its Playbooks. New features are currently being developed that will allow founders to manage their individual ventures and learn about the essentials required at each stage of their business. Perhaps most exciting, capital will start reaching participating businesses in 2023.
All of these developments are just one part of the ambitious plan that Feagin and his team have for Venture 313. "We need to be as disruptive and agile as the businesses we are looking to support, and these playbooks and other resources will allow us to grow Venture 313 into a catalytic platform that truly opens the door for Detroit's entrepreneurs."
Check out the video below, which was featured at the launch of Venture 313.